Transformations in
Business & Economics
© Vilnius University, 2002-2012
© Brno University of Technology, 2002-2012
© University of Latvia, 2002-2012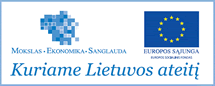 Article
Application of Environmental Policy Instruments in the Implementation of Sustainable Energy Development: Climate Change Mitigation

Remigijus Ciegis, Asta Mikalauskiene, Rasa Pusinaite
ABSTRACT. The aim of this paper is to examine the application of environmental policy instruments for the implementation of sustainable energy development. The paper analyses environmental policy approaches with emphasis on ecological tax reform and the need for implementation of green accounting. Also relations between the sustainable development and climate change are investigated. The last chapter of the paper is dedicated to the discussion upon the optimization model of climate change mitigation measures' selection. The paper concludes that the essence of ecological tax reform lies in the increase of Eco-tax, at the same time reducing labor taxation, and at the same time not increasing the overall tax burden. Selection of climate change mitigation measures or their combinations can be done using models of energetic optimization.
KEYWORDS: energy sector, environmental policy, sustainable development, climate change, climate change mitigation.
JEL classification: Q01, Q54, Q56.